Work Accident Compensation Claims

If you have had an accident at work and it wasn't your fault, you could be entitled to make a claim for injury compensation. You may be entitled to compensation if your injury occurred in an office environment, on a building site, restaurant, shop, warehouse, factory or driving for an employer.
Your employer's duty of care
It is an employers duty to protect staff and inform them about health and safety procedures. Employers must carry out regular risk assessments in the work place inside and out. They must ensure the health and safety of employees and visitors. This includes providing first aid equipment and facilities. Employees must also take reasonable care over their own health and safety.
Reporting the accident
If an accident occurs in the work place environment the employer must report the accident to the Health and Safety department at your local authority. Employers have a legal responsibility to report certain accidents and incidents, and in some instances pay the employee statutory sick pay or contractual sick pay and give them time off because of the work related accident. If you've been involved in a work related accident it's a good idea to make sure the accident has been reported too. Your employer must report any injury that prevents an employee from doing their normal work for more than three days.
At Synnott Lawline our team of dedicated, experienced solicitors specialise in helping people to claim compensation for injuries and illnesses that have happened at work. We endeavor to make sure you get the best compensation possible and given access to the appropriate support services to recover from your injuries or ill-health. We aim to give you good, solid advice in plain English throughout your claim, so you will always know what's happening.
If you have a question about your claim contact us on Locall 1850 20 40 60, Tel: 01 453 7890 Email us or tell about your case and start your claim today.
If you have a question about your

Work Accident Claim*

contact us on Locall 1850 20 40 60, Tel: 01 453 7890 Email us or tell about your case and start your claim today.
We are Specialists in Personal Injury Claims*
Simply call us on locall 1850 20 40 60, email us or tell about your case and start your claim today.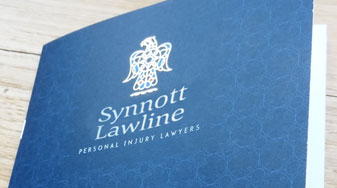 This booklet has been produced by Synnott Lawline Solicitors to give our clients an understanding of the personal injury compensation claims process. In some of our correspondence to you during the course of your compensation claim, we will make reference to the relevant sections of this guide by way of explanation of the particular aspect of your claim.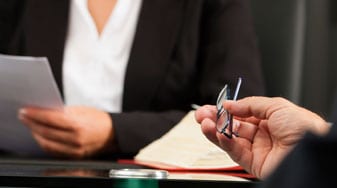 Often, valid claims are never brought because an injured party feels the accident was his own fault, whereas the primary cause of the accident may well rest with some other party. It is therefore always advisable to consult a solicitor concerning any injury resulting from an accident. Before we make a recommendation, we will discuss your case with you in detail.
How long will my claim take?
Subject to certain very strict exceptions, you have two years from the date of your accident to commence legal proceedings for compensation. If the two year period has expired, even by one day, then your claim is Statute Barred from proceeding. There is a different policy for Children under 18. For more contact us today.
*In contentious business, a solicitor may not calculate fees or other charges as a percentage or proportion of any award or settlement. This statement is made in compliance with regulation 8 of the S.I. 518 of 2002.